© ERNST HAAS, 
Surtsey Vocano
, 1981. Courtesy of Ostlicht. Gallery for Photography (Vienna)
© CHEN WEI, Yesterday Shop, 2016. Courtesy of ShanghART Gallery (Shanghai, Beijing & Singapore)
Recognizing photography as a changing and developing art form, the Fair presents moving images, installations, videos, digital art, sculptures and performance alongside classic masterpieces and still works.
© Chen Dazhi, Crevice, 2018. Courtesy of Three Shadows +3 Gallery (Beijing & Xiamen) 
Staged is a curated initiative that spotlights artists working at the cutting-edge of photography.  Placed throughout the Fair, Staged 2019 is powered by Ocula and features:● Chen Dazhi (Three Shadows +3 Gallery, Beijing & Xiamen), whose photography evokes the visualization of spirits across the dimensions of time and space.● Johannes Wohnseifer (König Galerie, London & Berlin), whose 'Polaroid Paintings' challenge the functional use of Polaroids as a social and aesthetic means of documenting everyday reality.● Michael Najjar (BANK, Shanghai), as a pioneer artist who fuses science, art, and technology into visions and utopias of future social orders emerging under the impact of cutting-edge technologies.● Leila Alaoui (Galleria Continua, Beijing, Havana, Les Moulins, San Gimignano), with La Marocians which brings together larger-than-life portraits taken by the artist as she travelled Morocco.Li Binyuan (Ren Space, Shanghai), whose performance 'Room' (2019) brings together video art and live action sculpture.
In a newly commissioned exhibition, Para Site (Hong Kong) will bring together a diverse collection of artists from across East Asia/Asia Pacific who use photography and new media to challenge the conventional theme of landscape including Yang Yuanyuan, Lau Wai and Tan Lijie.Titled Fieldwork, the exhibition reflects on ideas around territory, culture, identity and state by reframing the past to consider its role in shaping the future.  With artworks never seen in Mainland China, each artist will examine moments in history that have been previously overlooked or deliberately excluded to offer comment on the current geo-political situation. Works include:● Intensely personal pieces such as Sim Chi Yin's series One Day They'll Understand.  The work captures the complexity of family history in relation to the Cold War era in South East Asia and examines the hidden stories, silenced memories and contested narratives.● Particularly pertinent against the backdrop of the Hong Kong protests, Siu Wai Hang's Inside/ Outland documents the very waters that separate Hong Kong from the mainland, a reminder of those who swam to the shores of Hong Kong to seek refuge, including the artist's own father, and the complexity in distilling "we" from "they".Motoyuki Shitamichi's Torii project in which the artist photographs the Japanese torii outside of Japan's national borders. Torii represents a symbolic shape in Shintoism and outside of Japan the torii lose their significance and transform into simple objects.
© WONG WO BIK, Family Portrait, Eucliff Mansion, Repulse Bay, Hong Kong, 2013. Courtesy of the artist
COLLECTORS' EXHIBITION TAKING THE LEAP
Artworks from the UK's University of Salford Art Collection, which focuses on digital and Chinese contemporary art, have been selected by celebrated Hong Kong curator Ying Kwok for the 2019 Collectors' Exhibition.With the theme Taking the Leap, Kwok challenges collectors and audiences to move away from their comfort zone and demonstrates how to collect digital artworks by showcasing exciting artists including Cao Fei, Sun Xun, Mishka Henner and duo Jon Thomson and Alison Craighead.The exhibition also hopes to inspire collectors to commission artists to create new work.  Demonstrating this point, the leading, and often censored, female multimedia artist Lu Yang, has been commissioned to create a new photographic lightbox which will be shown in the Collectors Exhibition and will then enter the University of Salford Art Collection after the Fair.
© LIAM YOUNG, Where The City Can't See 2. Courtesy of University of Salford Art Collection
Spotlight & Exposure Award 
As announced earlier this year, the 2019 public program will also see two Mainland China debuts: Marina Abramović's legendary series The Lovers (1988) in the Spotlight exhibition and a solo presentation of work by French artist Noemie Goudal (Galerie Les Filles du Calvaire, Paris), winner of the Fair's inaugural Exposure Award powered by MODERN EYE.
ABRAMOVIĆ, The Lovers (Seated Figure), 1988. Courtesy of Sean Kelly Gallery (New York & Taipei)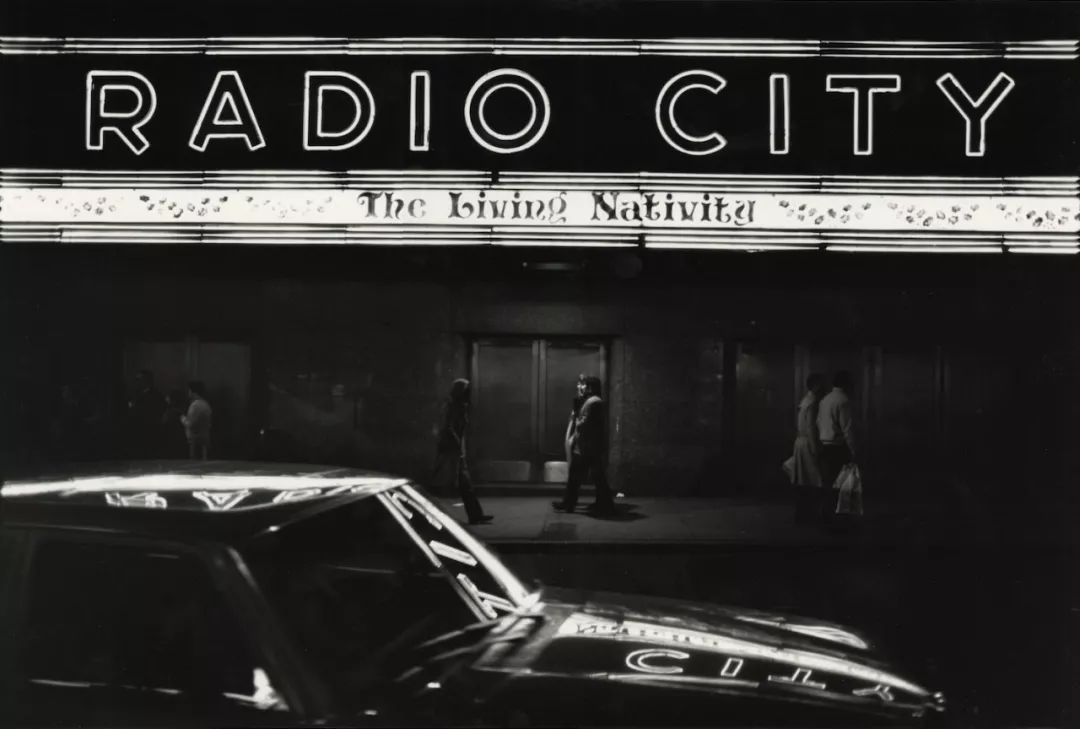 © TOM ARNDT, Radio City, New York, 1980. Courtesy of Les Douches la Galerie (Paris)